Olympics medal count: Missy Franklin and US swimmers lead the medal haul
Missy Franklin, Ryan Lochte, and Matt Grevers have multiple medals, including a gold medal each. American swimmers have been scooping up medals and smashing records at the London 2012 Olympics. So far, swimming is the only sport where multiple US athletes have won multiple medals.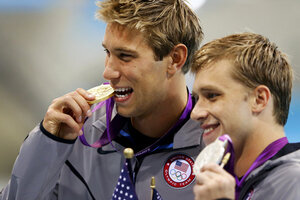 Michael Dalder/Reuters
The US scooped up two more gold medals Monday, and one so far on Tuesday, bringing the Team USA total gold medal count to six, and their overall total to 18, tying China.
Like most of the US medals earned at the 2012 London Games thus far, two of the gold came from the pool. The US dominated the backstroke, with teen swimming sensation Missy Franklin taking gold in the women's 100-meter, and Olympic veteran Matt Grevers winning the men's 100-meter. Nick Thoman also took the silver medal in the men's 100-meter.
It was the second medal for both Franklin and Grevers at these games. Both swimmers also medaled in the four by 100-meter freestyle relay. Grevers and his teammates took the silver, and Franklin and the US women's team won the bronze.
So far, 20 US swimmers have medaled, though some have been part of relay teams so their four medals count as one toward the US medal total. US synchronized diving teams have also brought in two medals. Kelci Bryant and Abigail Johnston won the silver, and Nick McCrory and David Boudia won the bronze.
---