For fans like me, Lance Armstrong doping saga spoils memories
(Read article summary)
Peter Ford, who covered Lance Armstrong's winning streak at the Tour de France for the Monitor, writes that Armstrong's doping has 'tainted some of my happiest memories of reporting in France.'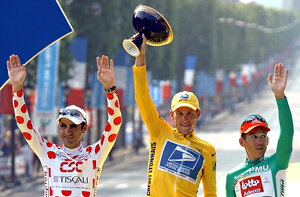 Peter Dejong/AP/File
Thirteen years ago, on an idyllic summer's afternoon, I stood by the side of a road in the cheesemaking region of Cantal and watched Lance Armstrong speed by, tucked into the peloton, on his way to his first victory in the Tour de France.
It was 1999. A year earlier the Tour had been in tatters, devastated by a doping scandal that had seen police and judges raiding riders' hotel rooms in the middle of the night, seizing drugs. Armstrong's successful arrival on the scene after overcoming cancer "is symbolic of the way the Tour de France is emerging from its own battle against disappearance," said the tour director at the time.
His victory would be "highly symbolic of the combat he fought against death, and that we are fighting against doping," promised Jean-Marie Leblanc.
It turns out that Mr. Armstrong beat the Tour de France organizers just as he had beaten death. Today the International Cycling Union (UCI), accepting evidence gathered by the US Anti-Doping Agency that Armstrong was a serial drug-taker, stripped the US "champion" of all his titles.
Even back in 1999, people suspected something was wrong. "Armstrong is very strong, too strong, incredibly strong," commented one French TV journalist the evening that the US rider won a punishing stage in the Alps.
But that could be dismissed as sour grapes, as an American charged into a sport long dominated by the French and swept all before him, "winning" a record seven Tours.
And we all wanted to believe in Armstrong, from the UCI – for whom he was a magnificent money-spinning mascot for his sport – down to the lowliest spectator standing by the side of the road who admired his comeback courage.
---