Singapore to Indonesia: Stop sending us your smog.
(Read article summary)
Air pollution in Singapore rose to unhealthy levels this week because of illegal forest clearing in Indonesia, prompting Singapore to urge Indonesia to do something to end the haze.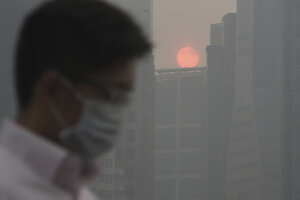 Joseph Nair/AP
Cloudy skies in Jakarta were no match for the breathtaking haze that hit Singapore on Thursday as air-pollution levels rose to record highs and sparked a war of words between diplomats in both countries over who should shoulder the blame.
Companies have asked employees to work from home, the military has stopped training outdoors, and pictures of Singapore's iconic Marine Bay Sands towers barely visible through the haze have been splashed across social media platforms and newspapers.
Despite the international blame game, the immediate cause was clear enough: fires used to clear land in Sumatra for farming and palm oil plantations. A local meteorological agency reported nearly 150 hotspots alone in Riau Province, itself a hotspot for mining, logging, and palm oil production.
Environmental advocacy group Greenpeace released a statement saying that the fires illustrated how Indonesia's government policies aimed at reducing deforestation had failed since half of them were in areas off-limits to land clearing.
Each year slash and burn practices in Indonesia shroud neighboring Singapore and Malaysia in thick haze. As deforestation has accelerated in recent years, it has worsened.
---