Kazakhstan's unnoticed journey from Soviet nuclear danger
(Read article summary)
Monitor writer Ben Arnoldy visited one of Kazakhstan's active nuclear reactors near the country's largest city, where batches of toxic uranium were stockpiled as recently as 2009.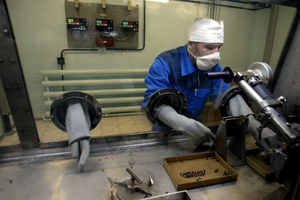 Mikhail Metzel/AP
Today I went to see a working Soviet nuclear reactor.
The two-story high white metal box had all the trappings of a Rube Goldberg contraption: red coils jutted from the top, blue canisters and pipes snaked up from the bottom, and something that looked distinctly like a hand crank extended from the side. On a nearby perch sat an ancient black rotary phone – a direct line, the site director explained -- to the reactor's control board.
While the scene felt frozen in 1967, the year the Russians built the research reactor here in Kazakhstan, a major modernization is now underway with the help of US money. By 2015, the reactor will be fueled by low-enriched uranium instead of higher-grade material that can be used for nuclear weapons.
The transformation of the Alatau reactor symbolizes the broader journey that this Central Asian nation is undertaking. Since the massive country (Kazakhstan is the ninth-largest country in the world) split off from Russia's southern flank in 1991, it has gradually and without much attention modernized its Soviet infrastructure, partnered with both the West and the Russians, and dodged some big post-independence nuclear perils.
But then when the scale of some of those perils comes into focus, it's hard not to wonder how Kazakhstan hasn't been more of a nail-biter news item over the past couple decades.
Here at the Alatau reactor, located just 20 kilometers from the country's biggest city of Almaty, a batch of extremely dangerous uranium – enriched to 90 percent – sat stockpiled as recently as 2009.
How much did they have, someone in our group asked.
"22 or 24 kilograms," said Petr Chakrov, acting director of the Institute of Nuclear Physics, which houses the reactor. Just as I was pondering the remarkable imprecision of the "or" in that weight, Mr. Chakrov casually mentioned the only measurement that really mattered: "Just enough for one bomb."
Aside for some protection measures that I won't detail, the most obvious outward evidence of change at the facility were a series of wall hangings in the entryway to the reactor.
---