One step forward, one step back on Iran's nuclear program
(Read article summary)
Iran has taken steps that indicate a slowing down of its nuclear progress like converting enriched uranium into reactor fuel, but it also announced new centrifuges that could hasten uranium enrichment.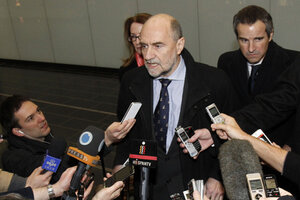 Ronald Zak/AP
• A daily summary of global reports on security issues.
United Nations nuclear agency inspectors concluded a one-day visit to Tehran without a solution for restarting stalled inspections of Iran's nuclear facilities and without concrete plans for another meeting to discuss a deal.
The team from the International Atomic Energy Agency (IAEA) most immediately seeks access to the Parchin military complex outside Tehran, where Iran is suspected by the IAEA to be working toward nuclear weapon capability, but left with no guarantees it would be allowed to do so.
"We will work hard now to try and resolve the remaining differences, but time is needed to reflect on a way forward," IAEA chief inspector Herman Nackaerts said today, after arriving back in Vienna, Bloomberg reports.
However, his Iranian counterpart, IAEA envoy Ali Asghar Soltanieh, made a somewhat more optimistic pronouncement. "Some differences were overcome and we agreed on certain points," he said. He also alluded to a future meeting. Meanwhile, a headline from Press TV, Iran's English-language news service, read: "Iran, IAEA reach basic agreement."
---