Good Reads: From revamping fire policy, to gangs on Facebook, to middle-class causes
(Read article summary)
This week's round-up of Good Reads includes a look at the benefit of letting wildfires burn, an interview with Haitian novelist Edwidge Danticat, tracking gang activity on social media, 'dirty' smart phones, and environmentalism in the middle class.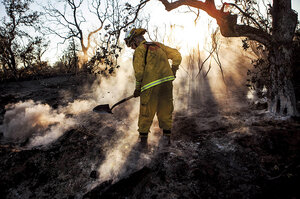 Max Whittaker/Reuters
There is one thing that wildfire experts know for certain: Wildfires are unpredictable.
Fires have grown larger and more intense in the past 10 years, a result of a decades-long fire policy focused on extinguishing every forest fire as quickly as possible. This practice has created an overabundance of deadwood, turning "much of the American West into a tinderbox," Paul Tullis writes in The New York Times Magazine.
Mr. Tullis gathered the latest research and methods fire experts have explored to solve the fire predictability conundrum. Researchers want to improve firefighters' abilities to make better predictions in the field, especially when massive fires threaten lives and property. But even improved prediction models won't prevent fires, he writes, arguing for a new fire policy that encourages managed burns in high-risk areas. "The way to make wildfires, and the people living near them, safer is by making peace with the idea that we need to let more of them burn longer," he writes.
Preserving Haitian culture
Through her books, Edwidge Danticat invites readers into the homes of Haitian citizens and immigrants, giving vivid life to the struggles faced by generations in a country plagued by corruption and poverty. In an interview with Al Jazeera America, Ms. Danticat, who immigrated to the United States when she was 12 years old, explained how she also sees literature as key to preserving cultural identity and family heritage, especially in the wake of natural disasters such as Haiti's 2010 earthquake.
---