Invisible Children responds to critics of Joseph Kony 2012 campaign
(Read article summary)
Invisible Children's chief executive defended his NGO's 'thoughtful and strategic' campaign against the murderous militia leader Joseph Kony.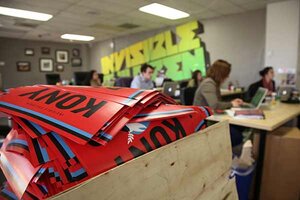 John Mone/AP
The campaign to stop Joseph Kony has responded to criticism and renewed its call to arrest the Ugandan militia leader who has murdered tens of thousands, displaced more than 1 million, and conscripted at least 30,000 child soldiers by force.
In a video released on the Invisible Children website, chief executive Ben Keesey laid out his group's finances, showing that more than 80 percent of funding was spent on program costs out in the field, and emphasized that most funds were spent through partner organizations on the ground in the communities of northern Uganda and the northeastern section of the Democratic Republic of Congo. He also said that the group, which has launched the most viral YouTube video campaign in history, is dedicated to bringing warlord Joseph Kony to justice.
"I understand why a lot of people are wondering, 'Is this just some slick, kind of fly-by-night, slacktivist thing?' when actually it's not at all," said Mr. Keesey in Invisible Children's response video. "It's connected to a really deep, thoughtful, very intentional and strategic campaign."
What is striking about Invisible Children's video campaign, and the often harsh response to it, is the yawning chasm between two groups of people who essentially share the same values and want the same thing.
---