Hague court issues its first guilty verdict against Congo warlord Lubanga
(Read article summary)
The guilty verdict against Lubanga will draw new attention to pending cases against 20 other indictees, including Ugandan warlord Joseph Kony, the focus of Invisible Children's Kony2012 video campaign.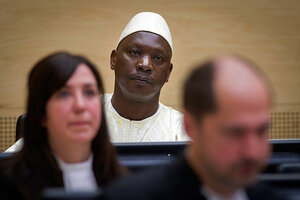 Evert-Jan Daniels/AP
The International Criminal Court at the Hague, Netherlands, has found Congolese warlord Thomas Lubanga guilty of conscripting and using child soldiers during the 1998-2003 conflicts in the Democratic Republic of Congo.
This is the first-ever verdict for the Hague court, and one that is likely to give credibility to future court cases filed against other ICC indictees such as Sudanese President Omar al-Bashir and Uganda's cultish warlord Joseph Kony. Mr. Kony, founder of the murderous Lord's Resistance Army, is the first man to be charged with war crimes by the ICC, and has recently become focus of an Internet campaign launched by the American activist group Invisible Children, urging Kony's arrest for abduction of child soldiers.
From the courtroom, Rachel Irwin, a reporter for the Institute for War and Peace Reporting, tweeted the results of the verdict, noting that Lubanga "showed no emotion [but] nodded at those seated in the gallery."
---