Outgunned against rebels, Mali soldiers overthrow government
(Read article summary)
After a string of defeats against better armed Tuareg rebels, Mali's army staged a mutiny and overthrew the government.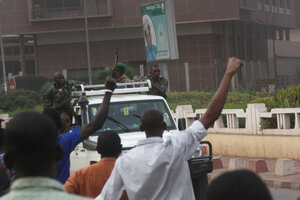 Harouna Traore/AP
Angered by the government's inability to provide the food and weaponry needed to fight an armed rebellion in the north, Mali's army launched a rebellion of its own yesterday. By Wednesday evening, they claimed to have overthrown the government in a coup d'etat.
The first shots rang out at an army barracks near Bamako, the nation's capital, in what has become a familiar sign of mutiny and unrest. But rebellious soldiers eventually moved toward the presidential palace, and after overpowering the presidential guard and arresting President Amadou Toumani Toure, they took to the airwaves and announced that the constitution was suspended and that the parliament and other democratic institutions would be dissolved until elections are held, reports CNN.
"Considering the incapacity of the regime in effectively fighting against terrorism and restoring dignity to the Malian people, using its constitutional rights, the armed forces of Mali along with other security forces have decided to take on their responsibilities to put an end to this incompetent regime of President Amadou Toumani Toure," said the soldiers' spokesman, Amadou Konare.
Mali has been considered one of the more stable democratic nations in West Africa, although Mr. Toure, the current president, came to power in an armed insurrection in 1991 before submitting to elections in 2002. The US and France also view Mali as a key frontline state fighting against Islamist militants calling themselves Al Qaeda of the Islamic lands of the Maghreb (AQIM).
---