Senegal's president concedes defeat, a welcome step in region of coups
(Read article summary)
After winning court permission to run for a third term, overriding a constitutional ban, President Abdoulaye Wade steps aside – breaking a pattern of Senegalese leaders overstaying their welcome.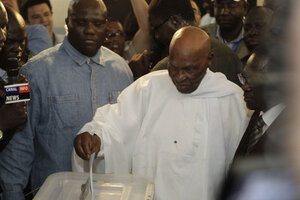 Rebecca Blackwell/AP
Senegalese President Abdoulaye Wade came to power in 2000 riding an electoral wave of reform. But by late last year, when he sought and received a court's permission to run for a third term, despite the constitution's specific ban on it, he angered the country's voters. He did not defy them, however. In presidential elections that wrapped up yesterday, Mr. Wade conceded defeat and congratulated his opponent, Macky Sall.
Given the deadly riots that preceded the first round of elections in February 2012, this was a welcome end to what could have become an ugly political crisis.
Senegal is widely regarded as one of West Africa's more stable democracies, largely because of its relative lack of military coups, but its leaders have shown a pattern of overstaying their welcome. Wade's decision to step down will be greeted by regional leaders with relief, especially after last week's sudden coup d'etat in the neighboring nation of Mali.
"The big winner tonight is the Senegalese people," Mr. Sall said in a press conference overnight. "We have shown to the world our democracy is mature. I will be the president of all the Senegalese."
Wade, meanwhile, played the gracious loser. "Results coming in suggest Mr. Macky Sall has won," Reuters quoted him saying last night. "As I always promised, I called him in the evening of March 25 to congratulate him."
---