West African group mulls intervention in Mali
(Read article summary)
ECOWAS, a West African regional group, reimposes sanctions and considers military intervention after Mali's coup leaders renege on promise to cede power to civilian rulers.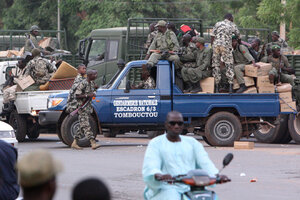 Harouna Traore/AP
The West African regional bloc ECOWAS is talking tough once more with coup leaders in Mali who had promised to hand over power to civilian rulers but seem to be reneging on that vow.
On Wednesday, the 15-member Economic Community of West African States (ECOWAS) issued a statement saying that ECOWAS would reimpose sanctions lifted after coup leader Capt. Amadou Sanogo pledged to return to the barracks after handing power to designated interim president Djouncounda Traore. Sanogo now says he wants to replace Mr. Traore after his term expires May 22, ahead of planned elections.
ECOWAS is now exploring other options, including military intervention.
"Failure on the part of the [junta] and their civilian allies to clearly reaffirm their commitment to the transitional arrangement in the next few days will be met with the immediate reinstatement of the targeted sanctions," the bloc said in a statement.
Kadre Desire Ouedraogo, the president of the ECOWAS Commission, says ECOWAS is just waiting for authorization from the United Nations to order the intervention.
"A strategic plan has been drawn up, and if the ECOWAS force has to be deployed, we need a go-ahead from the UN Security Council," Mr. Ouedraogo said.
The US is ready to support an ECOWAS intervention with logistics and military planners, says US Assistant Secretary of State for African Affairs Johnnie Carson.
---