West African group backs off intervention in Mali mess
(Read article summary)
ECOWAS had warned of a possible military intervention, but at a meeting in the Malian capital of Bamako, they accepted an interim president chosen by military coup leaders.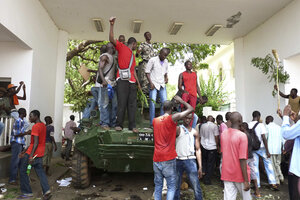 Adama Diarra/REUTERS
With a deal signed on Saturday, the West African bloc ECOWAS agreed to accept Mali's interim government led by Djouncounda Traore until elections can be held.
ECOWAS had warned that they might be forced to intervene militarily in Mali, following a March 22 coup by army mutineers. The coup toppled the government of Amadou Toumani Toure, because his government failed to provide the necessary weapons and food to fight against ethnic Tuareg rebels in the country's vast northern regions, but left the country so unstable that Tuareg rebels ended up taking control of the north and declaring an independent state.
The deal to keep ECOWAS troops out will be a relief for aid groups who warned that Mali's political crisis was hampering efforts to feed and shelter tens of thousands of people displaced by the fighting in the north. Even before the coup, Mali was in the throes of a food crisis, following higher temperatures and insufficient rainfall during the normal rainy season.
The new deal with ECOWAS leaves several questions unanswered, including the timeline for new elections. But two things are certain. One, the Malian army will continue to wield substantial influence over that country's politics; coup leader Capt. Amadou Sanogo will retain the status of a former head of state, which means that he will continue to have a role in any future negotiating process. Two, ECOWAS will continue to influence Mali's politics as well, since the regional bloc sees Mali's instability and its Tuareg rebellion as a threat to all nations in the region.
---