What's behind the 'outrage' over Chinese-made US Olympics uniforms?
(Read article summary)
US Sen. Harry Reid (D) of Nevada suggests that Americans pile up the Chinese-made Team USA uniforms and burn them. But how much does China really 'dominate' the US economy?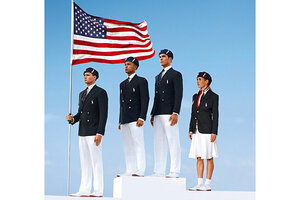 Ralph Lauren/AP
With congressional leaders threatening to gather up all of the Ralph Lauren-designed, Chinese-made US Olympic uniforms and give them the Joan of Arc treatment, I think it's fair to say that we have officially entered the silly season.
Here's a list of headlines in some of our finer newspapers and TV news channels.
Outrage, fury, shame... and US Olympic uniforms. It's a wonder we can all bear to face the day.
It is perhaps unfair to point out the gap between the outrage exhibited to US Olympic team uniforms on one hand, and the lack of outrage over, say, the continuing civil war in Syria, the European economic crisis, or the growing drought in the African Sahel region.
---