China subsidized solar panels, US finds. Are tariffs the right response?
A Commerce Department investigation found that Chinese government-subsidized solar panels were dumped in the US market, harming US manufacturers.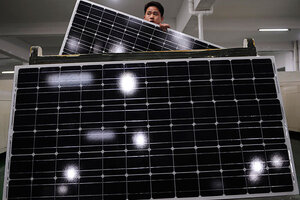 Stringer/Reuters
In a move with potential to spark a trade war, the Commerce Department ruled Tuesday that US solar panel manufacturers are being victimized by Chinese manufacturers dumping cheap panels in North America that were unfairly subsidized by the Chinese government.
Amid an ongoing investigation, Commerce determined that Chinese producers and exporters have received subsidies ranging from 2.90 percent to 4.73 percent, a smaller advantage over US manufacturers than many analysts had expected. Commerce will now direct tariffs to be collected on Chinese imports.
The Obama administration argues that dumping of under-priced solar panels is a violation of World Trade Organization rules that has come at a high cost to US panel manufacturers. Several have already been forced to close domestic manufacturing facilities even though 2011 was one of the best years ever for US solar panel sales.
While the US remains a leader in the production of thin film – an advanced type of solar-electric panel technology – at least 12 US manufacturers that made more conventional photovoltaic panels have laid off employees, shut down plants or filed for bankruptcy during the past two years, according to the Coalition for American Solar Manufacturing. The group of seven US manufacturers filed trade petitions last year against two Chinese silicon solar PV manufacturers, leading to the Commerce investigation.
---