Good Reads: Syria's conflict, hero journalists, and the power of parents
(Read article summary)
A tribute to war correspondent Marie Colvin, a few tips about Syria from Lawrence of Arabia, and one Indian woman's fight against sexual harassment top this week's list of stories worth reading.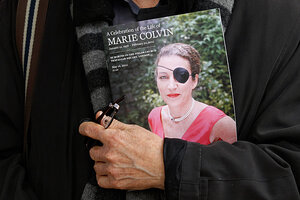 Stefan Wermuth/Reuters/File
Being Marie Colvin
The news reports that come out of Syria on a daily basis often leave more questions than answers. How do ordinary people survive in such a war? How can a country's leader order his military to fire artillery shells into packed urban areas, knowing that such actions will cause civilian casualties by the thousands?
The late foreign correspondent Marie Colvin was obsessed by these questions. Like many war correspondents, she ran toward the sound of gunfire, while everyone else was running away. In February of this year, she had herself smuggled by Syrian opposition members into the besieged city of Homs to document what she considered a terrible war crime, made more terrible by the fact that no one was there to see it, or to stop it. It was an assignment that would cost her her life.
Why did she do it? Marie Brenner in Vanity Fair explores the past of this teacher's daughter from Long Island, and her dangerous passion for being an eyewitness to history:
---