New Zealand mine explosion: 27 missing, but five miners emerge alive
A gas explosion ripped through the largest coal mine in New Zealand Friday. Rescue efforts are expected to begin shortly. Another Chilean miners rescue story?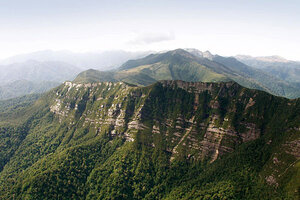 Pike River Coal via New Zealand Herald/AP
A gas explosion ripped through one of New Zealand's largest coal mines Friday while dozens of workers were underground. Five of them, dazed and slightly injured, stumbled to the surface hours later, and 27 were missing, officials said.
Police said that shortly before the blast the electricity went out in the mine, which may have caused ventilation problems. That may have contributed to a buildup of gas underground. Rescue teams were waiting for word that the mine was safe to enter.
Television footage showed blackened and singed trees and light smoke billowing from the top of a mountain where a 360-foot (110-meter) -long ventilation shaft emerges. A nearby hut had been blown down, suggesting a powerful blast had shot up the shaft from deep in the mine.
Police said there could still be pockets of explosive methane gas in the mine, and air quality tests were underway in the ventilation shaft. The power outage was complicating efforts to pump fresh air into the mine and make it safe for rescuers to enter.
"They're itching to get in there and start looking for other people and a bit frustrated at having to stand and wait," said police spokeswoman Barbara Dunn."There is concern that ventilation inside the mine shaft may be compromised by the power outage."
Specialist teams were preparing for a rescue bid at the mine, located in rugged mountains near Atarau on New Zealand's South Island. But Tony Kokshoorn, mayor of nearby Greymouth who visited the mine, said it could be days before it was safe enough for them to enter.
"We are holding on to hope," he told reporters. "Look at Chile, all those miners were trapped and they all came out alive."
While the condition of the missing miners was not clear, the prospect that they could be alive but trapped recalls the dramatic saga of 33 Chilean mine workers who spent 69 days a half-mile (a bit less than a kilometer) deep in a collapsed gold and copper mine. They were rescued last month in an event played out on international television that captivated the world.
---