Bin Laden mansion drew local suspicion for years
Bin Laden mansion: the highly secretive lives of those who lived inside the Osama bin Laden mansion had neighbors curious. Questions still remain as to whether the Pakistani government knew bin Laden lived inside.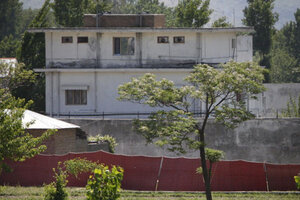 Faisal Mahmood/Reuters
When a woman involved in a polio vaccine drive turned up at Osama bin Laden's hideaway, she remarked to the men behind the high walls about the expensive SUVs parked inside. The men took the vaccine, apparently to administer to the 23 children at the compound, and told her to go away.
The terror chief and his family kept well hidden behind thick walls in this northwestern hill town they shared with thousands of Pakistani soldiers. But glimpses of their life are emerging — along with deep skepticism that authorities didn't know they were there.
Although the house is large, it was unclear how three dozen people could have lived there with any degree of comfort.
Osama bin Laden's compound: 4 oddities
Neighbors said they knew little about those inside in the compound but bin Laden apparently depended on two men who would routinely emerge to run errands or to a neighborhood gathering, such as a funeral. There were conflicting details about the men's identities. Several people said they were known as Tariq and Arshad Khan and had identified themselves as cousins from elsewhere in northwestern Pakistan. Others gave different names and believed they were brothers.
Arshad was the oldest, and both spoke multiple languages, including Pashto and Urdu, which are common here, residents said.
As Navy SEALs swept through the compound early Monday, they handcuffed those they encountered with plastic zip ties and pressed on in pursuit of bin Laden. After killing the terror leader, his son and two others, they doubled back to move nine women and 23 children away from the compound, according to U.S. officials.
Those survivors of the raid are now "in safe hands and being looked after in accordance to the law," the Pakistani government said in a statement. "As per policy, they will be handed over to their countries of origin." It did not elaborate.
---