Bin Laden hideout a command center? Pakistanis have doubts.
Bin Laden hideout: theories that Osama bin Laden was commanding terrorist activities throughout the world from his hideout in Pakistan have Pakistanis saying 'no way.'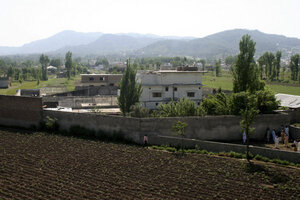 Aqeel Ahmed/AP
It didn't figure. U.S. Intelligence released footage of a grey- bearded, dishevelled figure wrapped in a shawl and wearing a woolen hat, and then it said that this same old man had been calling the shots on al Qaeda's plots around the globe.
There was doubt and derision in Pakistan on Sunday at the suggestion that Osama bin Laden's hideout north of the capital, Islamabad, was somehow an "active command and control center" for al Qaeda.
"It sounds ridiculous," said a senior intelligence official. "It doesn't sound like he was running a terror network."
For one thing, there was no internet connection or even telephone lines into the compound that U.S. commandos raided a week ago, killing the world's most-wanted man.
More critically, analysts have long maintained that, years before bin Laden's death, al Qaeda had fragmented into a decentralized group that operated tactically without him.
"They will say whatever they like," said another senior Pakistani security official, when quizzed on a U.S. intelligence official's assertion that bin Laden had been "active in operational planning and in driving tactical decisions" of the Islamist militant group from his secret home in the town of Abbottabad. "I can say tomorrow that he was planning to make nuclear or chemical weapons ... Would you believe it? I think there's an element of exaggeration. They're playing it up."
A senior U.S. intelligence official said in Washington information carted away from the compound by U.S. forces after the May 2 raid, including the videos, several clips of which were released, represented the largest trove of intelligence ever obtained from a single terrorism suspect.
---