Aung San Suu Kyi leads thousands in Yangon march
Aung San Suu Kyi led Yangon's largest public demonstration since 2007.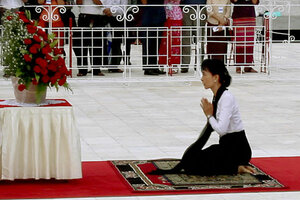 Kyodo/Newscom
More than 3,000 democracy supporters led by Aung San Suu Kyi marched Tuesday in Myanmar's biggest city in honor of her father, the nation's independence hero.
The short march from the headquarters of Suu Kyi's National League for Democracy to the Martyrs' Mausoleum was the biggest public demonstration since 2007, when the military junta launched a bloody crackdown on pro-democracy protesters.
Suu Kyi earlier attended the government's ceremony at the mausoleum for Martyrs' Day, which marks the anniversary of the 1947 assassination of Gen. Aung San and colleagues during a Cabinet meeting shortly after Britain agreed to grant independence to what was then known as Burma.
It was the first time in nine years that 66-year-old Suu Kyi attended the ceremony. She had been under her most recent stint of house arrest from May 2003 until last November.
Suu Kyi's prestige as Aung San's daughter has long vexed the country's military rulers, who ceded power only early this year to an elected but army-backed government.
The state-controlled press, which used to carry lengthy tributes to the nation's founding father, stopped such coverage years ago. The Martyrs' Day ceremony used to be attended by the prime minister, then later by the home minister, but now Yangon's mayor is the highest-ranking official to take part.
---