Why Aung San Suu Kyi wants to keep sanctions on Burma
Some analysts warn that democracy activist Aung San Suu Kyi's pro-sanctions strategy may lose steam as Burma relies on its Asian neighbors for trade and investment.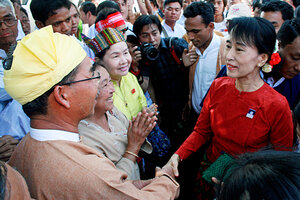 Khin Maung Win/AP
Three months after her release from house arrest, Aung San Suu Kyi is back in the spotlight in Burma (Myanmar) over her support for Western sanctions, a stance that is increasing tensions between her political party and the military government.
Ms. Suu Kyi emerged as a democracy leader during a popular uprising in 1988 that was later put down by the military. She has long been a thorn in the side of Burma's ruling generals, who held elections in November for a new parliament that is dominated by a junta-backed party.
In 2007, a monk-led protest movement in several cities sparked by rising fuel prices met a violent end. In an interview last week with Canada's Globe and Mail, Suu Kyi praised Egypt's Army for refusing to fire on crowds during recent protests there. But she said Burmese people were unlikely to take to the streets as in Egypt, for now, given their own Army's willingness to crack down.
"But on the other hand, one cannot say that the Burmese Army is always going to shoot at the people," she told the Globe and Mail.
Burma's media have blocked all news about Egypt and other revolts, according to analysts and diplomats.
---