Rebels stream into Libya's capital, capturing Qaddafi's sons
Libyan rebels claims to have the entire capital city of Tripoli under their control, except for Qaddafi's compound.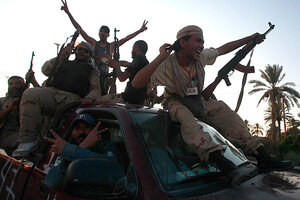 Bob Strong/Reuters
Rebel fighters streamed into Tripoli as Muammar Qaddafi's forces collapsed and crowds took to the streets to celebrate, tearing down posters of the Libyan leader.
A convoy of rebels entered a western neighbourhood of the city, firing their weapons into the air. Rebels said the whole of the city was under their control except Qaddafi's Bab Al-Aziziya-Jazeera stronghold, according to al-Jazeera Television.
Qaddafi made two audio addresses over state television calling on Libyans to fight off the rebels.
"I am afraid if we don't act, they will burn Tripoli," he said. "There will be no more water, food, electricity or freedom."
Qaddafi, a colourful and often brutal autocrat who has ruled Libya for over 40 years, said he was breaking out weapons stores to arm the population. His spokesman, Moussa Ibrahim, predicted a violent reckoning by the rebels.
"A massacre will be committed inside Tripoli if one side wins now, because the rebels have come with such hatred, such vendetta...Even if the leader leaves or steps down now, there will be a massacre."
NATO, which has backed the rebels with a bombing campaign, said the transition of power in Libya must be peaceful.
After a six-month civil war, the fall of Tripoli came quickly, with a carefully orchestrated uprising launched on Saturday night to coincide with the advance of rebel troops on three fronts. Fighting broke out after the call to prayer from the minarets of the mosques.
Rebel National Transitional Council Coordinator Adel Dabbechi confirmed that Gaddafi's younger son Saif Al-Islam had been captured. His eldest son Mohammed Al-Qaddafi had surrendered to rebel forces, he told Reuters.
---