Hurricane Rina near Category 3 strength approaches Mexico resorts
Hurricane Rina now has winds of 110 mph, just shy of a Category 3 hurricane. Cancun resorts are preparing for Hurricane Rina's arrival.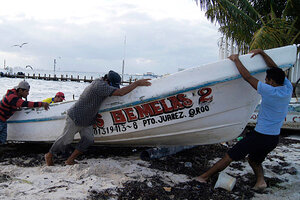 AP Photo/Israel Leal)
Hurricane Rina headed for Mexico's Yucatan peninsula on Wednesday with winds just shy of major hurricane strength, threatening beach resorts but steering clear of oil platforms.
"Rina has the potential to become a major hurricane today or tonight," the U.S. National Hurricane Center said.
Rina is a Category Two hurricane on the Saffir-Simpson intensity scale, packing winds of 110 mph. When sustained winds hit 111 miles per hour storms are considered major Category Three hurricanes.
The sixth hurricane in the Atlantic season this year, Rina was located 215 miles east southeast of Chetumal, Mexico, and 235 miles south southeast of Cozumel early on Wednesday, and was moving west at 5 mph (7 km/h).
The storm was expected to be near or over the east coast of the Yucatan peninsula late Wednesday and on Thursday.
Some cruise ships revised their travel schedules and the governor of Quintana Roo ordered hundreds of people evacuate the fishing village of Punta Allen on the Yucatan peninsula's western coast on Tuesday night.
---