Vladimir Putin faces new challenger in Russian presidential race
Will Russian billionaire and New Jersey Nets owner Mikhail Prokhorov team up with Alexei Kudrin to challenge Vladimir Putin in Russia's presidential election?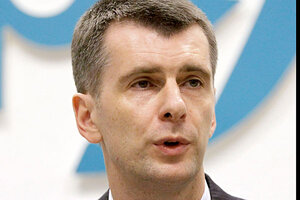 (AP Photo/Misha Japaridze)
A longtime ally of Vladimir Putin called for the creation of a liberal party to fill a void in Russian politics exposed by mass protests against the prime minister's 12-year rule, and cast himself as its potential leader.
Also on Monday, Russian billionaire Mikhail Prokhorov said that he would run for the Russian presidency and create a new political party.
"I made probably the most serious decision in my life. I am running for president," said Prokhorov at a Moscow press conference. He did not rule out the possibility of uniting with former Finance Minister Alexei Kudrin.
Kudrin's proposal create a new liberal party, if it gains support, could offer a way for Putin to channel discontent and reduce the threat posed by the biggest opposition protests since he took power in 1999.
But Kudrin also warned that the legitimacy of a presidential election Putin is expected to win in March would be undermined by any failure to address protesters' allegations of fraud in a parliamentary election on Dec. 4. That poll, he said, had shown the need for a strong liberal alternative to the ruling party.
"Today it is clear that this deficit is even more dire than we could have imagined," said Kudrin, a fiscal hawk forced out in September after a dispute with President Dmitry Medvedev over lavish state military spending plans.
---