Kim Jong-il: Legendary golfer and mythical powers even in death
North Korea's propaganda machine gave Kim Jong-il supernatural powers, creating a mystique around the leader. Next up: his son Kim Jong-un.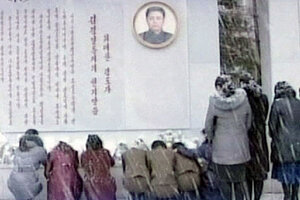 AP Photo/KRT via APTN
Just before North Korean leader Kim Jong Il died, the skies glowed red above sacred Mount Paektu and the impenetrable sheet of ice at the heart of the mystical volcano cracked with a deafening roar.
At least, that's the official account of the supernatural circumstances preceding Kim's death last Saturday, as relayed by the state-run Korean Central News Agency. The news agency is one of the chief propaganda organs tasked with building up the quasi-religious mystique around the Kim family, which has ruled North Korea since its founding in 1948.
The tools for making the myth have been developed over two generations, dating back to Kim's father, late President Kim Il Sung. But with Kim Jong Il's sudden death and the ascension of his young son Kim Jong Un, North Korea's image artisans will have to do it all at warp speed.
IN PICTURES: Kim Jong-il and the cult of personality
Some of the hallmarks of the mythmaking machine in North Korea:
___
THE BLOODLINE
Founder Kim Il Sung remains North Korea's "eternal president" and lies embalmed at his former presidential palace. Son Kim Jong Il took over after his father's death in 1994 in what was the communist world's first hereditary succession. He's now lying in state at the Kumsusan Memorial Palace.
---