Palestinians open new peace talks with a threat
Palestinian and Israeli peace talks began with a 'brainstorming session' in Jordan today, the first face-to-face meetings in more than a year.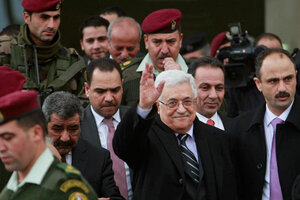 (AP Photo/Nasser Shiyoukhi)
The chief Israeli and Palestinian peace negotiators on Tuesday were holding their first face-to-face meeting in more than a year, searching for a formula to restart long-stalled negotiations.
With prospects for a breakthrough appearing dim, the Palestinian president threatened to take "new measures" against Israel at the end of the month. Nonetheless, Tuesday's meeting, in the presence of international diplomats, marked the strongest chance in months for reviving talks.
Jordan's Foreign Ministry said Israel's Yitzhak Molcho and Palestinian envoy Saeb Erekat met with envoys from the "Quartet" of Mideast mediators — the United States, Russia, the European Union and the United Nations.
RECOMMENDED: Top 5 issues in Palestinian-Israeli peace talks
Afterward, the two men met in the presence of their Jordanian host, Foreign Minister Nasser Judeh, to exchange positions on key issues of security and borders between Israel and a future Palestinian state.
A diplomat who attended the larger meeting said the talks were "serious."
---