IMF predicts European recession will slow global economy
The International Monetary Fund is warning against deep budgetary cuts and extreme austerity measures.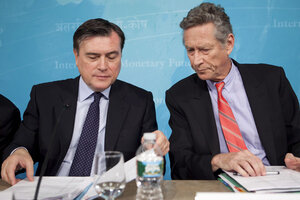 Stephen Jaffe/IMF/Handout/REUTERS
A recession in Europe will slow the global economy this year, the International Monetary Fund predicted Tuesday, while urging world leaders to focus on growth more than budget cuts.
The IMF forecasts global growth of 3.25 percent this year, slower than the 4 percent pace it projected in September.
The 17 nations that share the euro will shrink 0.5 percent this year. In September, the IMF had predicted 1.1 percent growth for the region.
Europe's recession should have only a modest impact on the United States. The IMF projects 1.8 percent growth for the year, unchanged from its September estimate.
The IMF warns against steep budget cuts, which it says will slow growth further and undermine market confidence. The global lending organization's message runs counter to the push for budget cuts advocated by German Chancellor Angela Merkel.
In light of the weaker growth, European governments should avoid extreme austerity measures — spending cuts and tax increases — the IMF said in its World Economic Outlook. And healthier European countries whose governments are facing lower interest rates "should reconsider the pace" of their short-term budget cuts.
IMF managing director Christine Lagarde made a similar argument Monday during a speech in Berlin.
---