Costa cruise ship stranded in pirate waters near the Seychelles
Costa Allegra, a cruise ship with 1,000 people on board, had a fire in the engine room. The cruise ship, stranded in Somali pirate waters, is now being towed to the Seychelles.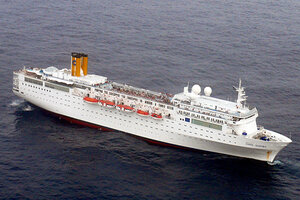 Indian Navy via Seychelles Office of the President/AP
A crippled cruise ship owned by the same company as the capsized Costa Concordia was being towed by a French tuna fishing boat on Tuesday to Seychelles' main island, the liner's owner said.
An engine room fire on the Costa Allegra knocked out the ship's main power supply, leaving it adrift with more than a thousand people on board in waters vulnerable to pirate attacks.
Costa Cruises said an earlier plan to tow the vessel to the nearest island of Desroches had been aborted because security conditions for mooring the ship and offloading the passengers and crew "would not have been assured".
IN PICTURES: The Costa Concordia tragedy
Two tugs were approaching the cruise ship to assist the Seychelles-based tuna purse-seiner Trevignon pulling the Costa Allegra, which is now due to arrive at the main island Mahe on Thursday morning.
"Helicopters will ensure continuous supply of food, comfort items, flashlights in order to mitigate guests' discomfort given the difficult conditions on board," Costa Cruises spokesman Davide Barbano said in a statement.
An evacuation off Desroches Island would have presented the ship owner and local authorities with a tricky and expensive logistical operation.
---