French gunman had no Al Qaeda connection, says official
Mohamed Merah claimed to have Al Qaeda contacts and training in Pakistan. French officials say there's no evidence of an Al Qaeda connection.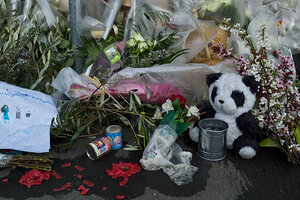 (AP Photo/Thibault Camus)
French authorities have no evidence that Al Qaeda commissioned a French gunman to go on a killing spree that left seven people dead, or that he had any contact with terrorist groups, a senior French official said Friday.
The official, who is close to the investigation into the attacks by 23-year-old Mohamed Merah, said there is no sign he had "trained or been in contact with organized groups or jihadists."
Merah was killed in a gunfight with police Thursday after a 32-hour standoff with police. Prosecutors said he filmed himself carrying out three attacks since March 11, killing three Jewish schoolchildren, a rabbi and three French paratroopers with close-range shots to the head.
In PICTURES: French school shooting
He had traveled to Afghanistan and Pakistan, and prosecutors said he had claimed contacts with Al Qaeda and to have trained in the Pakistan militant stronghold of Waziristan. He had been on a U.S. no-fly list since 2010.
The official said Merah might have made the claim because Al Qaeda is a well-known "brand." The official said authorities have "absolutely no element allowing us to believe that he was commissioned by Al Qaeda to carry out these attacks."
The official spoke on condition of anonymity because of the sensitivity of the investigation.
---