Sarkozy asks Al Jazeera not to broadcast Toulouse video
Al Jazeera has a video of the three deadly shootings in France filmed by the gunman, Mohamed Merah. Police say the shooter may have had an accomplice.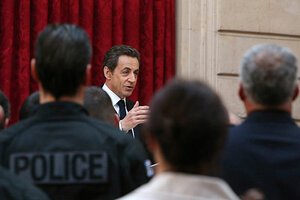 REUTERS/Kenzo Tribouillard/
President Nicolas Sarkozy urged television networks on Tuesday not to broadcast video footage of three deadly shootings in southern France filmed by an Al Qaeda-inspired gunman using a camera strapped to his body.
Qatar-based Al Jazeera received the film at its Paris bureau on a memory stick late on Monday, the network's Paris bureau chief Zied Tarrouche said.
UPDATE: "Al Jazeera will not air video of French shootings," the Qatar-based news channel said in a headline on its website after Sarkozy's plea.
Gunman Mohamed Merah, 23, told police before he they shot him dead last week that he had recorded the images as he killed three Jewish children, a rabbi and three soldiers at point-blank range in the city of Toulouse and nearby Montauban.
IN PICTURES: French school shooting
The film clips had been edited together with Islamic chants and readings from the Koran, Tarrouche said.
"I call on executives of all TV stations that may have the images in their possession not to broadcast them under any pretext out of respect for the victims and for France," Sarkozy said following a meeting with police chiefs in Paris.
France is still reeling from the shootings a month before a presidential election in which Sarkozy faces an uphill struggle against a Socialist challenger.
---