Bosnian war 20th anniversary: Sarajevo residents remember siege victims Friday
The Bosnian war began in 1992 with the siege of Sarajevo. Friday, on the 20th anniversary of the Bosnian war beginning, citizens of Sarajevo are honoring those that were killed in the three-year war.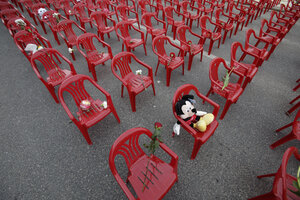 Amel Emric/AP
SARAJEVO, Bosnia-Herzegovina
Exactly 11,541 red chairs have been lined up in rows along Sarajevo's main street — one for every man, woman and child killed in the siege that ended up being the longest in modern history.
Sarajevo on Friday marks the 20th anniversary of the start of the Bosnian war. Exhibitions, concerts and performances are being held, but nothing can match the impact of hundreds of rows of red in the same square where it all started on April 6, 1992.
Hundreds of the chairs are small, representing the slain children.
"This city needs to stop for a moment and pay tribute to its killed citizens," said Haris Pasovic, organizer of the "Sarajevo Red Line."
The Serb siege of Sarajevo went on for 44 months — 11,825 days — longer than the World War II siege of Leningrad, now St. Petersburg. Its 380,000 people were left without electricity, water or heat, hiding from the 330 shells a day that smashed into the city.
On that fateful day in 1992, some 40,000 people from all over the country — Muslim Bosniaks, Christian Orthodox Serbs and Catholic Croats — poured into the square to demand peace from their quarreling nationalist politicians.
The European Community had recognized the former Yugoslav republic of Bosnia as an independent state after most of its people voted for independence. But the vote went down along ethnic lines, with Bosniaks and Croats voting for independence, and Bosnian Serbs preferring to stay with Serb-dominated Yugoslavia.
---