Blind Chinese activist: The path from acupunture to legal eagle
Chen Guangcheng is a self-taught lawyer, who was supposed to be an acupuncturist, a traditional trade for the blind in China. But he started winning lawsuits, and won a popular following.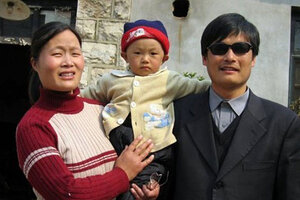 (AP Photo/www.ChinaAid.org)
The blind, corn-country activist at the center of a diplomatic tussle between the US. and China did not set out to be a dissident. Chen Guangcheng taught himself law to defend the constitutional rights he saw trampled so often.
"'What do the authorities want me to do? Lead a protest in the streets? I don't want to do that,'" New York University law professor Jerome Cohen last year recounted Chen as telling him in a moment of frustration after a local court rejected one of his lawsuits.
While Chen never took to the streets, his supporters rallied in his defense when he was imprisoned on what they call fabricated charges and when he was later kept under house arrest and beaten. Ultimately they helped free Chen, seeing him as a symbol for human dignity and for the promise that the law could bring justice in a society seen as unfairly tipped toward the powerful.
RECOMMENDED: Six famous dissidents in China
After Chen's surprising escape from his well-guarded rural home April 22 and into the protection of U.S. diplomats in Beijing, his fate is now being discussed in high-level negotiations. Both governments are trying to keep the case from overshadowing Secretary of State Hillary Clinton's arrival Wednesday for annual talks on global hotspots and economic imbalances.
---