What's right in this picture? A Chinese dissident in US custody
Pleas for US help like those from dissident Chen in China can wear down a superpower trying to reorient itself. Yet foreigners still look to American for moral leadership. A mature democracy should know how to resolve such dilemmas.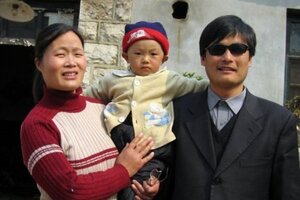 www.ChinaAid.org/AP Photo
Despite a perception that it is headed toward decline, America is constantly reminded of what makes it strong. The latest example comes from China, where a prominent dissident, Chen Guangcheng, sought refuge in the custody of the US Embassy in Beijing.
Mr. Chen is a blind, self-taught lawyer who was being punished for exposing the practice of forced abortion and sterilization. He was able to escape from his well-guarded house detention and secretly travel to the embassy, a place that most represents a beacon of freedom and human rights in China.
For people like Chen who plead for US support or protection, it is not the giant US economy or its military that draws them. Rather, it is the moral attraction of America's ideals. What values do China, Russia, or many big powers stand for?
As President Obama has said: "America's interests are not hostile to peoples' hopes; they're essential to them." His words echo Thomas Paine's line that "the cause of America is in a great measure the cause of all mankind."
---