A lesson on leadership from Africa
The guilty verdict against Charles Taylor, former president of Liberia, is more than a victory for justice. It is a lesson for Africans and other about no holding up 'great leaders' as saviors. Great ideas are better than great people.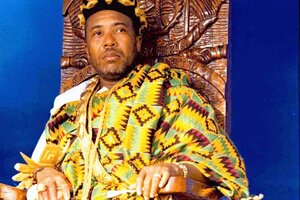 David Guttenfelder/AP Photo
Africa can rejoice. An international court has found Charles Taylor, a former president of Liberia, guilty of aiding and abetting atrocities. This is the first time since the Nuremberg trials that a current or former head of state has been convicted of such crimes.
But there's more than a lesson about justice in this verdict.
Africans, as in many parts of the world, are still learning not to put too much faith in "great men" to save them or change their world. Mr. Taylor was once a charismatic leader whose many followers worshipped the power he seemed to convey.
And Africa, unfortunately, has had its unfair share of "great leaders" who were once hailed as saviors but ended up leading their countries astray, often in a cult of personality. The most famous are Robert Mugabe of Zimbabwe, Mubuto of Congo, Julius Nyerere of Tanzania, and Muammar Qaddafi of Libya.
---