Candidates need antidotes to public anger, not anger
A combative, angry mood hangs over the presidential races, reflecting public sentiments. But below the anger are emotions that do need to be addressed, with a calm debate of policy.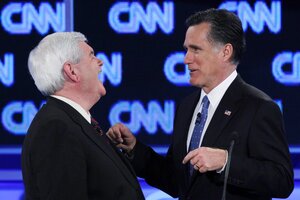 AP Photo/Matt Rourke
Will anger be the victor of the 2012 election?
So far in the presidential contest, there's enough pique in the air and indignation in the campaigns to say it might.
Voter sentiment reflects a record low in trust of both Washington and Wall Street. A large majority of Americans say the country is on the wrong track.
The anger is seen not only in opinion polls but in the grievance politics of the tea party and "Occupy" movement. And the candidates, with their mood meters ever on, are playing to this emotional alienation among Americans.
In his State of the Union message, for example, President Obama starkly shifted from his campaign style of 2008 that promised hope and an end to bitter partisanship to that of being a pugnacious populist. His newfound fighting spirit appeals to the hard-core left that sees him as too reconciling. The president even got into a personal spat this week with Arizona's Republican governor, Jan Brewer.
In the GOP race, the candidates long ago resorted to personal barbs, eye-rolling, snide snorts, high umbrage, and tart retorts. So far, there have been 19 Republican debates and each new one seems closer to a Fox News or MSNBC talk show – the kind that looks at the world only in black and white. (Thankfully, the next debate isn't until Feb. 22.)
---