Obama, like Roberts, seeks harmony in Washington
President Obama cites the military as a model for politics, similar to the aim of Chief Justice John Roberts for consensus on the Supreme Court. Why are both goals not working?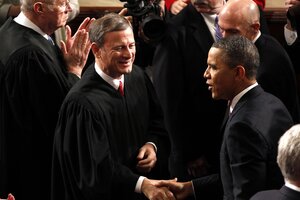 AP Photo/J. Scott Applewhite
Twice last week, President Obama held up the military as a model for American politics. In his State of the Union message and later in a radio broadcast, he commended the armed forces for not being consumed with personal ambition or obsessed over differences.
"They work together," he stated.
His plea for similar harmony among elected leaders is an echo of one made in 2005 by John Roberts Jr. when he became the chief justice of the Supreme Court.
After being nominated, Mr. Roberts said he would try to create a more "collegial atmosphere" among the nine justices, take on fewer cases, and, most of all, seek greater consensus in rulings to avoid the 5-to-4 splits that hurt the court's legitimacy.
He noted how the early years of the court in the 19th century saw most rulings made with a unanimous vote. Both Roberts, and a later justice, Sonia Sotomayor, also claimed they would try to be the kind of judges that act with neutrality, not ideology. (They may have had in mind the court's 2001 split decision, Bush v. Gore, that helped decide a presidential election.)
Both the president and the chief justice took over their jobs with the high hope of bringing a spirit of nonpartisanship to their Washington tenures. And they both cited models to follow – today's military and the Supreme Court of two centuries ago, respectively.
Both leaders, however, have had only limited success in their goals. One reason may be that their suggestions for models are flawed.
The military, by definition, focuses on an enemy and relies on discipline and cohesion to defeat a foe (and minimize defections). It also receives its marching orders from elsewhere, a civilian leadership.
---