Voters and their state's ethical fitness
An extensive probe of 'corruption risk indicators' by a team of journalists shows that most of the 50 states don't reflect voter demands for integrity in official conduct.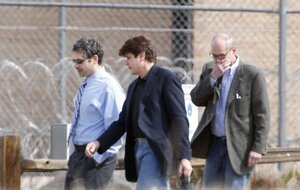 Ed Andrieski/AP Photo
It's an odd disconnect. In choosing their elected leaders, Americans care most about integrity – even more so than leadership abilities or stands on issues. And yet, according to a new grading of all 50 states on the integrity of their government – 'A' to 'F' – voters aren't exactly getting what they want.
The grades are the result of an extensive probe of each state's ethics laws and susceptibility to corruption by a team of reporters. The probe was put together by the Center for Public Integrity and supported by Public Radio International and Global Integrity.
More than half the states were found to be below average: 18 got a 'D' and 8 chalked up an 'F' while 19 received a 'C'.
Only five states earned a 'B'.
And none deserved an 'A'.
The survey, known as the State Integrity Investigation, used 330 "corruption risk indicators" to gauge each state's transparency and accountability in official affairs, including how well it implements anti-corruption rules and laws.
The best state? Surprisingly, New Jersey, despite its Tony Soprano reputation.
After a spate of scandals in the last decade, the state passed strong ethics laws and put in place a credible enforcement mechanism. Georgia ranks last despite many antigraft laws, in large part because "money finds a way to flow around those laws," said one researcher.
---