China starts 'combat ready' patrols in disputed South China Sea
The move comes amid rising tensions between China and its neighbors over disputed islands in the resource rich area.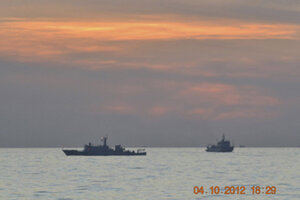 Philippine Army/Reuters/File
China has begun combat-ready patrols in the waters around a disputed group of islands in the South China Sea, the Defence Ministry said on Thursday, the latest escalation in tension over the potentially resource-rich area.
Asked about what China would do in response to Vietnamese air patrols over the Spratly Islands, the ministry's spokesman, Geng Yansheng, said China would "resolutely oppose any militarily provocative behavior."
"In order to protect national sovereignty and our security and development interests, the Chinese military has already set up a normal, combat-ready patrol system in seas under our control," he said.
"The Chinese military's resolve and will to defend territorial sovereignty and protect our maritime rights and interests is firm and unshakeable," Mr. Geng added, according to a transcript on the ministry's website of comments at a briefing.
He did not elaborate. The ministry does not allow foreign reporters to attend its monthly briefings.
China is involved in long-running disputes with Vietnam and the Philippines about ownership of the South China Sea and its myriad, mostly uninhabited, islands and atolls. Taiwan, Malaysia and Brunei also have claims.
---