Sorry, Iran: UAE opens pipeline around Strait of Hormuz
The new pipeline bypasses the Strait of Hormuz, a choke point for Middle East oil that Iran has threatened to block.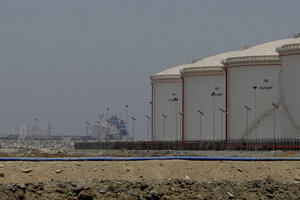 Kamran Jebreili/AP
Dubai, United Arab Emirates
The United Arab Emirates on Sunday inaugurated a much-anticipated overland oil pipeline that bypasses the Strait of Hormuz, giving the OPEC member insurance against Iranian threats to block the strategic waterway.
The 380-kilometer (236-mile) Abu Dhabi Crude Oil Pipeline snakes across western desert dunes and over the craggy Hajar mountains to the city of Fujairah on the UAE's Indian Ocean coast, south of the strait.
Until now, all Emirati exports were loaded in the Gulf and then sailed out through Hormuz. Once it is running at full capacity, the pipeline could allow the country, OPEC's third biggest exporter, to ship as much as two-thirds of its peak production through the eastern port city.
It is designed to carry at least 1.5 million barrels a day of crude, though capacity is expected to eventually rise to 1.8 million barrels daily.
Efforts to bring the long-awaited export route online have gained increased urgency in recent months because of repeated threats by Iranian officials to close Hormuz if the country's own exports are blocked.
The narrow strait is patrolled by Iranian warships as well as by the US Navy and its allies. It is the export route for about 17 million barrels of oil a day, or a fifth of the world's oil supply.
The chairman of Iran's Joint Chiefs of Staff said Sunday that Tehran has a contingency plan to close the key route, though any decision to shut it rests with the country's Supreme Leader, Ayatollah Ali Khamenei.
---