Iran will now accept quake help from abroad
After last weekend's earthquakes, critics say the Iranian government's reaction to the crisis was too slow. Foreign help is welcome, as Iran copes with the aftermath of the catastrophe that killed over 300.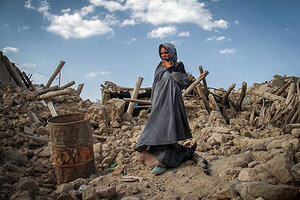 Farshid Tighehsaz/ISNA/Reuters
In a change of heart, Iran said Tuesday it now welcomes foreign aid for victims of the deadly twin earthquakes that hit the country's northwest over the weekend.
The remarks indicate authorities were still struggling to cope with the quakes' aftermath. Critics charged they failed to react quickly enough to help the region along the borders with Azerbaijan and Armenia, where the 6.4 and 6.3 magnitude quakes Saturday killed 306 people and injured more than 3,000.
Shelter for 50,000
Iran's government said it has provided shelter for about 50,000 people who lost their homes during the quakes, which have been followed by scores of aftershocks.
A magnitude 5.3 aftershock on Tuesday afternoon jolted the town of Varzaqan again, the semioffical Fars news agency reported. Varzaqan was one of the weekend epicenters.
The Tuesday aftershock quake also rocked Tabriz, the provincial capital, where frightened people poured into streets. No further casualties were reported. Many Tabriz residents have stayed outdoors, some in public parks, since the first tremors.
The weekend quakes hit the towns of Ahar, Haris and Varzaqan in the Iranian province of East Azerbaijan. At least 12 villages were destroyed, and 425 others sustained damage ranging from 50 to 80 percent of their buildings, state TV and news agencies reported. The stricken region has a population of about 300,000.
Roads heavily damaged
---