Will WikiLeaks founder Assange go free?
Ecuador's government offered asylum to Julian Assange, the founder of WikiLeaks, on Thursday. But the British government will not allow him safe passage out of their country where he's been living in the Ecuadorian embassy for the past 60 days.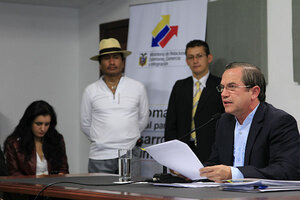 AP Photo/Dolores Ochoa
WikiLeaks founder Julian Assange might live as a free man in Ecuador — if he can ever get out of England.
Shortly after the Andean nation granted Assange asylum Thursday, UK authorities said he would not be allowed to leave Ecuador's London embassy, where he has been holed up for 60 days.
The controversial free-speech advocate, whose website has rattled governments and industries, took refuge in the red brick building June 19 to avoid extradition to Sweden, where he's wanted on allegations of sexual misconduct.
On Thursday, Ecuador Foreign Minister Ricardo Patino said he shared Assange's fear that Sweden may send him to the United States where he said he would likely face "persecution" and "human rights violations" on espionage charges.
But Assange's newly acquired refugee status left UK authorities unmoved.
"Under our law, with Mr. Assange having exhausted all options of appeal, the British authorities are under a binding obligation to extradite him to Sweden," the Foreign Office said in a statement. "We shall carry out that obligation. The Ecuadoran Government's decision (Thursday) does not change that."
---