Japan sends jailed Chinese activists home to diffuse diplomatic row
One group of Chinese protesters, arrested earlier this week by Japanese authorities for landing on an island at the heart of a diplomatic dispute, arrived home to a hero's welcome.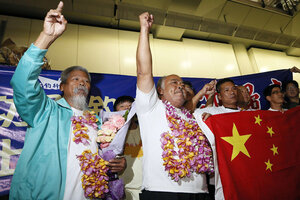 Tyrone Siu/REUTERS
Japan on Friday sent home the first group of Chinese activists detained after landing on an island claimed by both Tokyo and Beijing, a move China welcomed but at the same time warned its neighbor against any further escalation in tension.
Japan and China, Asia's two largest economies, have been at odds since the activists were detained on Wednesday after using a boat to land on the rocky, uninhabited isles known as the Senkaku in Japan and the Diaoyu in China.
Five activists and two Chinese television journalists who flew to Hong Kong from Okinawa arrived to a hero's welcome, while the rest of the 14-strong group were expected to head home by boat in a voyage that could take up to four days.
At Hong Kong's international airport, crowds of Chinese passengers clapped their arrival, as the men carried red China flags and a banner carrying the words: "Successful landing on Diaoyu islands. Activists show their ambition."
Amid emotional scenes, the men again asserted China's sovereignty over the islands and denounced Japan's actions as illegal. "The Diaoyus are a part of China," said activist Tsang Kin-shing to a massive throng of reporters at the arrivals gate.
---