Syria's Assad emerges in public to mark Eid al-Fitr
The outing marks the Syrian president's first appearance in public since a bombing last month that killed four of his top security officials.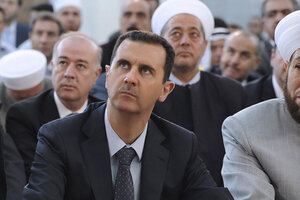 AP Photo
Syrian President Bashar Assad attended prayers in a Damascus mosque to mark the start of a Muslim holiday on Sunday, his first appearance in public since the bombing last month that killed four of his top security officials.
Elsewhere in the country, thousands staged anti-government protests in mosques and cemeteries following special prayers marking Eid al-Fitr, the three-day holiday that ends the holy fasting month of Ramadan. Pious Muslims traditionally visit graves and recite prayers for the dead on the holiday.
Amateur video posted by activists on the Internet show a large group of worshippers in a mosque at al-Zahera district in Damascus shouting: "There is no God but Allah" and "Assad is the enemy of God," while clapping their hands over their heads.
"May God protect the Free Syrian Army!" they also cried, referring to the main rebel group fighting to topple Assad.
Ramadan in Syria was particularly deadly this year as the civil war reached the two largest cities, Damascus and Aleppo. The Syrian regime has suffered a series of setbacks over the past month that point to a loosening of its grip on the country.
The July 18 rebel bombing of the state-security headquarters in the capital was a major blow to Assad. His brother-in-law was among the four killed officials.
---