Where's Assad? As grip on Syria weakens, his whereabouts come into question
In the days since key military advisers of Syria's President Assad were assassinated in Damascus, reports have him in the Alawite-dominated coastal region, where he is more secure.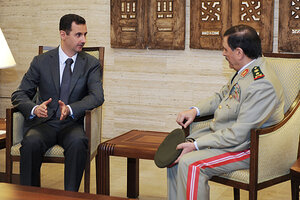 SANA/AP
With his capital in open revolt and his regime shaken by the brazen assassination of several key advisers in a bomb attack, Bashar al-Assad's grip on power has not looked less certain since the uprising against his rule began 17 months ago.
Even his whereabouts are being questioned, with various reports asserting that he and his family have fled Damascus for the relative safety of Latakia or Tartous (see map), both port cities on the Mediterranean coast and an area where the Alawite sect – to which the Assad family belongs – predominates. State-run media continue to report that he is in the capital.
As fighting in Damascus entered a sixth day, panicked residents fled the city and headed toward the nearby border with Lebanon. Up to 30,000 Syrians were said to have entered Lebanon in the past 48 hours, stretching the capabilities of Syria's tiny neighbor and overwhelming aid agencies. Most of those fleeing the violence in Damascus are well-heeled middle-class people driving their own cars. Some of them likely have properties in Lebanon or will be checking into hotels in Beirut.
---