Israel's foreign minister wants new elections to replace Palestinian leader Abbas
Avigdor Lieberman wrote to Middle East mediators, calling for new elections to replace Palestinian President Abbas. Israeli Prime Minister Netanyahu disassociated himself from the letter.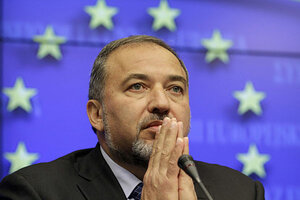 Yves Logghe/AP/file
Israel's foreign minister urged the international community to help oust Palestinian President Mahmoud Abbas whose policies he called "an obstacle to peace" in a letter released Wednesday.
Foreign Minister Avigdor Lieberman wrote to the Quartet of Mideast mediators — the U.S., the U.N., the EU and Russia — this week calling for new elections in the Palestinian Authority in order to replace Abbas, accusing the Palestinian Authority of being "a despotic government riddled with corruption."
'Realistic leadership'
"Despite Mr. Abbas' delays, general elections in the Palestinian Authority should be held and a new, legitimate, hopefully realistic leadership should be elected" he wrote. "Only such a leadership can bring progress with Israel. We must maximize the holding of new elections in the PA alongside the tremendous changes in the Arab world, in order to bring a serious change between Israel and the Palestinians."
---