Tweeting jihadists: The next generation of militants
Twitter is an unfiltered space for Islamist extremists. Groups are using the service to provide the jihadist take on current events and conflicts.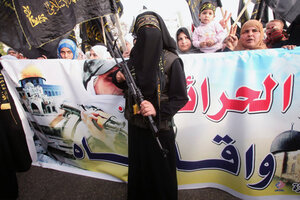 Suhaib Salem/Reuters
In the old days, 10 years ago, jihadists vowed death to Western imperialism on audiotapes that couriers smuggled out of mountain hideouts and passed to satellite TV stations.
The next generation of militants has a much simpler way to proselytize: Twitter.
For years, Islamist extremists have struggled to outsmart the censors in online forums — with their videos yanked from YouTube, their pages flagged on Facebook and their message boards hacked — but Twitter still offers a rare unfiltered space for the groups, according to analysts who monitor militants' online presence.
On one recent Sunday, for example, the Syrian jihadist group Jabhat al-Nusra sent out a flurry of tweets from its official account, joining that day the Somali militants from al-Shabab, Afghanistan's extremist Taliban, and other hard-line Islamist fighters from Kenya and Yemen on the microblogging service that claims more than 140 million users.
---