British PM Cameron makes cabinet changes, but keeps finance minister
Economic woes in Britain have forced Prime Minister David Cameron to tinker with his lineup of cabinet ministers and advisors.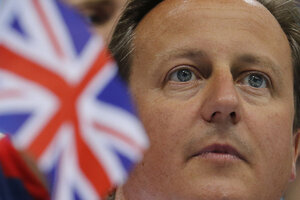 Luke MacGregor/REUTERS
British Prime Minister David Cameron kept his unpopular finance minister George Osborne in a cabinet reshuffle on Tuesday he hopes will revive the Conservative-led government's fortunes in the middle of a term dominated by recession.
Cameron's office billed his first political rejig as a game changer for a government finding it increasingly difficult to heal the economy, but heavyweights such as Foreign Secretary William Hague stayed put and few changes are expected in policy.
The prime minister's scope for a sweeping overhaul is limited by the constraints of life in coalition with the left-leaning Liberal Democrats and the danger of creating enemies among his own Conservatives at a delicate time.
Osborne, a close Cameron ally, was booed by crowds before he presented medals to Paralympics winners on Monday night, highlighting discontent with budget cuts that have repeatedly missed the government's targets and the general economic gloom.
"He's definitely staying put," a source familiar with the reshuffle discussions told Reuters.
Polls show many Britons think Osborne should be sacked. But replacing too many senior ministers could be interpreted as an admission of policy failure, particularly on the economy.
Government officials had argued that shifting Osborne from his post would raise questions on financial markets about Cameron's resolve in tackling Britain's large budget deficit.
Cameron, who has seen his party's popularity fall as the economy sours, has stuck to his guns with austerity, hoping growth will return before the next election in 2015.
INTERNAL DISCIPLINE
The dire state of the economy forced the prime minister to at least tinker with his economic team, however, moving 72-year-old Justice Secretary Ken Clarke - a former finance minister - to a floating role with an economics brief.
Lib Dem David Laws, another respected economic brain, was expected to be handed a ministerial job.
---