China reacts to Japan's plans to buy islands claimed by China and Taiwan
Japan says it will buy three uninhabited islands in the East China Sea. Beijing said it would not "sit back and watch its territorial sovereignty violated." The islands are part of what Japan calls the Senkakus, and China calls the Diaoyu group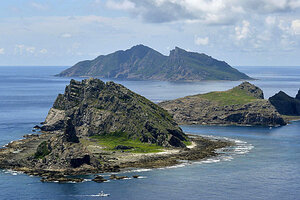 (AP Photo/Kyodo News, File)
Japan's government said Monday it has decided to purchase several disputed islands from their private owners. China reacted swiftly, warning Japan of "serious consequences" if it proceeds with the plan.
Chief Cabinet Secretary Osamu Fujimura said Japan will buy the three uninhabited islands in the East China Sea from a Japanese family it recognizes as the owner. China and Taiwan also claim the islands, which are part of what Japan calls the Senkakus and China the Diaoyu group.
Fujimura said the decision to nationalize the islands reflects Japan's desire to create a "stable and secure" environment, not to anger China.
"We hope there will be no misunderstandings," he said.
RECOMMENDED: How well do you know Asia geography? Take the quiz
China's Foreign Ministry responded angrily, saying Beijing would not "sit back and watch its territorial sovereignty violated."
"China strongly urges Japan to immediately stop all action to undermine China's territorial sovereignty and return to a negotiated settlement to the dispute. If Japan insists on going its own way, it will bear all the serious consequences that follow," the ministry said in a statement.
It did not specify the possible consequences.
State-run China Central Television reported that Foreign Minister Yang Jiechi summoned the Japanese ambassador to protest the plan.
---