Japan discovers cheap flights, 3 low-cost carriers lead the way
Airline tickets are plunging in Japan, as Japanese embrace quick weekend flights to visit friends and family. Three new efficient low-cost carriers have seen growth this year.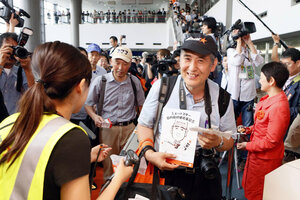 AP Photo/File
Japan has a reputation for loving expensive things like overpriced real estate, gourmet melons and luxury brands. But the nation is finally discovering the joy of flying cheap, with the arrival this year of three low-cost carriers.
The takeoff of AirAsia Japan, Peach Aviation and Jetstar Japan could change lifestyles. No longer will air travel be mostly confined to business trips and fancy once-in-a-lifetime vacations to places such as Hawaii.
Flying is suddenly growing more casual, including for weekend dining, visits with friends, even day trips. Ticket prices are plunging by about half, to 16,000 yen ($200) trips to the southwestern resort island of Okinawa or a 5,000 yen ($60) hop to Seoul.
The airlines are not only out to woo Japanese away from regular leisure activities such as going to Disneyland or watching a movie. They are also out to convince the notoriously workaholic Japanese not to work so hard.
They may revitalize Japan's 3 trillion yen ($38 billion) aviation market — already the world's third largest, comprising about 5.5 percent of global traffic and 11 percent of industry revenues — that critics say is untapped for its tremendous potential.
Helping to drive the change is the expansion of two Tokyo airports, Haneda and Narita, which has opened up more landing slots for airlines.
Twenty-two-year-old graduate student Chie Kodama recently used Jetstar for an urban-planning research trip to Okinawa, and was surprised at how the planes were "normal," like any other airline's.
"And it is so cheap you forgive any shortcomings," she said.
---