Libya: FBI investigators visit crime scene
On Thursday, U.S. Department of Defense personnel aided FBI investigators as they toured the site of the September 11 attack in Libya which killed four. The visit lasted approximately 13 hours.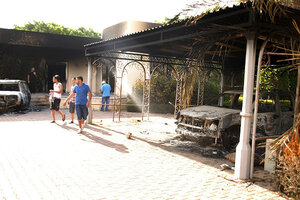 AP Photo/Ibrahim Alaguri, File
A team of U.S. investigators travelled for the first time to the eastern Libyan city of Benghazi on Thursday to analyse the crime scene where the U.S. ambassador was killed in an attack last month, Libyan and U.S. sources said.
FBI agents were sent to Libya after the Sept. 11 assault on the U.S. diplomatic mission and on another facility in which Ambassador Christopher Stevens and three other Americans were killed.
But, until now, they had mainly remained in Tripoli and had not visited the site of what the United States has called a "deliberate and organised terrorist attack", partly because of security concerns.
"An American team has been visiting the compound," one Libyan security source said. Another security source said: "They have been assessing the damage, collecting evidence."
The FBI team was on the ground in Benghazi for about 13 hours looking at the crime scene before leaving, two U.S. government sources said on condition of anonymity.
In Washington, U.S. Attorney General Eric Holder suggested the probe had been active despite the weeks-long delay in getting FBI agents to Benghazi.
---