For Libyans, Amb. Stevens was simply 'Chris'
US Ambassador to Libya Christopher Stevens, who was killed last month, made a rare and powerful difference as a US diplomat through his accessibility to Libyans.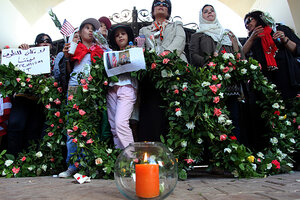 Mohammad Hannon/AP/File
Benghazi and Tripoli, Libya
To Ahmed Bani, US Ambassador Christopher Stevens was simply "Chris," as he was to people throughout Benghazi.
"When he passed in the street, the young men would call out, 'Hello, Chris!' They knew his face," he says. "And he would laugh and say hello. This is the right way to deal with people here."
Mr. Stevens was newly arrived in Benghazi as the US envoy to anti-Qaddafi rebels when Mr. Bani, an Air Force colonel turned rebel spokesman, first met him. "Work for your country, not yourself," Stevens advised him at their first meeting in spring 2011. "Work as a Libyan, not as Ahmed Bani."
Stevens always put his country first, Bani says. Yet according to Libyans who knew him, he shone as an advocate for America in large part simply by being himself: friendly, modest, and interested in the lives of ordinary people. His death last month during an attack on the US consulate in Benghazi was met with shock and sadness in Libya – feelings that are a rare achievement of sorts in a region inclined to distrust American power.
"We'd never seen an American ambassador who walks in the streets, visits shops and sits down with people – a down-to-earth person," says Atia Lawgali, deputy minister of culture and civil society, who knew Stevens. "In this regard, he was unique."
Stevens' habits contrast with those of many US diplomats in unstable countries like Libya. Security concerns keep many within the walls of fortified embassies, while security details during trips outside can make it hard to get friendly with locals. While his exposure has been questioned in light of his death, the risks of his outreach helped advance America's image.
---